Fruits and vegetables
POMFRESH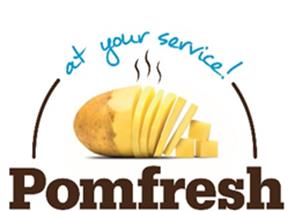 Person of contact
Béatrice SPRUMONT
Key account Manager
Phone: 32-(0)471579090
Contact details
13, Rue des sources - ZI de Martinrou
6220 FLEURUS
Phone: 32-(0)71800940
Fax :32-(0)71800942
company profile
Added Value
As you know, «POMFRESH» is a company created in 2009, belonging to the «WARNEZ» Group. «WARNEZ» is the second washed potato packer and producer for Belgium's Retail. This collaboration enables us to access a great number of various sources of supply, and the possibility to work a lot of different varieties. Our up-to-date production tool has been designed for small Batches as well as big productions.
Product range - Services / Brands / Markets
• Ordinary or potatoes with firm flesh
• Potatoes from different regions (France, Wallonia…)
• Different varieties of potatoes (Ratte, Pink Fire Apple, vitelotte, firm flesh, flat from Florenville …)
• Different colors potatoes (pink, black, yellow,red, purple…)
• Different potato sections (thin slices, cube, slice, wedges)
• Different sizes potatoes (ex : 225 gr potatoes baked with skin, 100 % cooked)
• Peeled or with skin
• Pasteurized 100 % or 50 % cooked
Main references
For the moment, we mainly deal with the convenience food industry in France and Belgium and retail.
Certification
BIO
Pictures